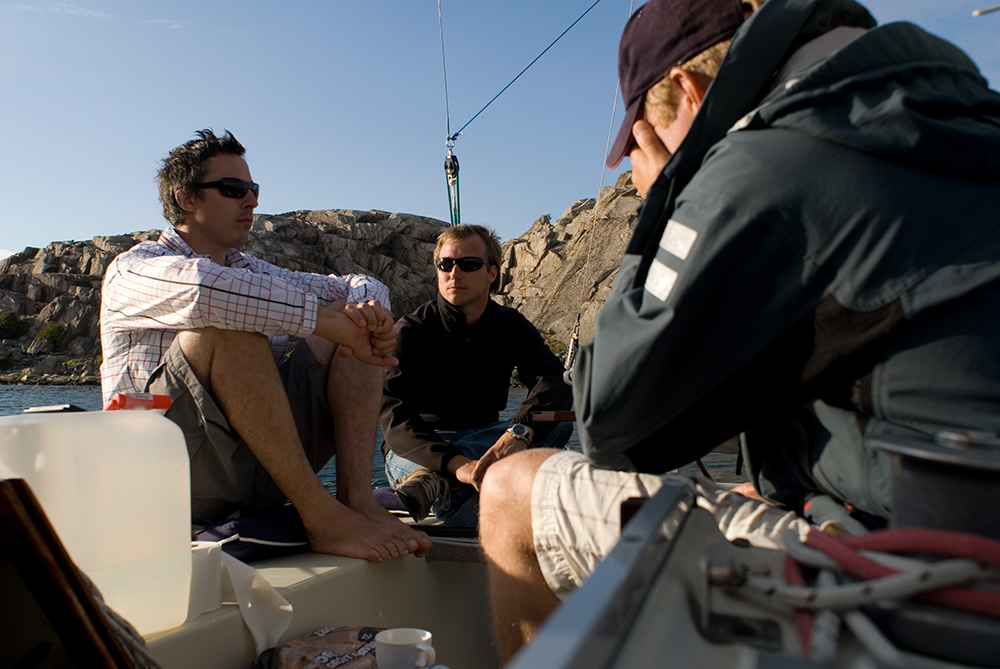 The day after we headed for Grebbestad for a quick stop to get more beer (which we had already run out of…surpriiise haha) and some lunch. After Grebbestad we set sail for Koster. Koster is a really nice little island with a cool light house on it. We stayed the night there and had a big shrimp dinner with some champagne. Another boat with some friends of ours came and met up and stayed overnight.
The following day we headed south. It was really windy (12-14 m/s) so we got some nice sailing, a bit cold though. As we headed out on the outside of all islands we got some pretty big waves too. It started blowing even more after a while so we decided to head back closer to the coast. After sailing for a while we made it to a strange place called Sannäs. It is a really strange little village with a eery Twin Peaks feeling hanging over it. We camped for the night there.
The following day (Wednesday) we kept heading south. After some cold sailing in even stronger winds we made it to Fjällbacka. The marina was busy with a lot of boats. Most of them were not really sailing people but party people who borrow dad's big sailboat and go port to port to party. Apparently there had been a big party there the night before and since not that many people can actually sail that well (I assume) they stayed in the marina all day since it was so windy. We had a really good lunch at a place and got a well deserved beer to go with it.
This was where we were supposed to drop Fabian off for the week so Fabian's girlfriend Jenny drove up to meet us. She brought Soerine and a girl named Lisa. We made some lunch for them in the boat and then hung out with them all day. The day ended with a dinner later at night with the girls at the same place where we had had lunch. After that Fabian headed home with them and me and the crew went to sleep in the boat.
Thursday we were planning on staying at a small little uninhabited island somewhere again so we needed to get some dinner food for the night. We decided on catching some fish while sailing. It didn't really take us that long to pull up 11 Mackerels and we made a quick pit stop for lunch on the boat and fish fixing outside of Smögen. It was still pretty windy so we needed to find a place with some shelter from the wind to stay over night. After a few more hours of sailing we found a really good island with a pretty high rock on one side. We tied the boat up there and went for a swim around the boat. Really nice place, a bit crowded though.
Friday was the last night out with the sailing crew so we made a reservation at Petterson's Krog. It is a really nice fish restaurant on the island Kärringön. After a long day of sailing we finally made it to the island. On the way into the marina we saw some people we knew and waved hi. They came over for a beer as soon as we had tied the boat up at the dock.
A shower and a change of clothes later we were ready to go and have some really nice fish for dinner. That place is really good. I loved it.
After dinner we headed upstairs for the bar. The view from the bar is so nice, sunset over the water and little islands scattered all around to break up the reflection of the sunset in the water. We met up with the crew from a few other boats in the bar and had a long fun night out. Met one of my really old elementary school friend's younger sister who works there. That was a lot of fun. Haven't seen her since she was really young. I also met her friend who works with blowing glass in Småland. I was so impressed by that, it is so cool :)
The following day we started the last stretch to go back home. At about 3pm we were back in the marina on Tjörn where Pontus keeps the boat. We cleaned it out and tied it to the dock. The sailing trip was over. I had so much fun being out sailing again. The swedish west coast is hard to beat when it is nice in the summer with the long long bright summer nights, sailing, little islands and partying. I really like summer on the Swedish west coast.